The Rixton in remarkable review
Hang on for a minute...we're trying to find some more stories you might like.
Are you a boy band fan? Well don't forgot about charming, upcoming British boy band, Rixton. Their first album, Along the Road just dropped March 3 and they have already topped the charts with two hits you probably recognize: Me and My Broken Heart and Hotel Ceiling.
Picture Boyz II Men and The Beach Boys collaborating to produce an album with incredibly synchronized harmony and you've pictured Rixton.
The album begins by displaying a pure example of their talent as they start off slow with perfect matching pitch then kick it up a notch to a more fast pace style of catchy rhythms and beats you won't want to turn off.
The lyrical aspect of the album is similar to any other heart throb boy band. It's what you could call any given teenage girl's "feel good song" like One Direction, Justin Bieber or Ed Sheeran produce. It's your basic break up, in your bedroom eating ice cream material. So why not download it into your iTunes?
Aside from what they've produced, you've got to have a level of admiration for this group's passion for their work. The boys dropped out of high school at the age of 16 to record demos in their mom's basement. They experienced the poor side of an artist's life style, starting off like many others before them, posting their videos and covers to YouTube. Rixton has even spent months sleeping in an old Volkswagen van because they hadn't made their big break yet with Scooter Braun. Now they have made it big and the success is even sweeter.
The first single released, Me and My Broken Heart, topped charts internationally. It was even nominated for four awards last year alone.  It's a song about needing temporary love to fill a broken heart. Lead singer, Jake Roche, begs the question "why do we call this love?" Referring to an emotionally unhealthy past relationship.
Originally the boys wanted to call themselves Relics but by legal default they were forced to change it since there was already a band with that name. After tons of brainstorming along with the love for the R and X's sounds when combined, Rixton was born. Together, the four each bring an abundance of talent to the table. They write all their own songs and can each play an instrument.
Roche has been in the showbiz for some time now, acting in small commercial roles before turning over to music. He is the son of former The Nolans member, Christie Goddard and actor Shane Richie.
Alongside Roche, the rest of the crew is Charley Bagnall, Lewi Morgan and Danny Wilkin. Roche is the voice of the band, while the others back vocal. He is also a rhythm guitarist, but the lead guitarist is Bagnall. Wilkin covers the bass and keyboard while Morgan plays the drums.
They do it all, truly deserving the title of band. They've opened for acts such as Justin Bieber and Ariana Grande across the U.S.
The fan base keeps growing, with the boy band essential: hysterical screaming girls. So don't be the one missing out, on missing your voice.

About the Writer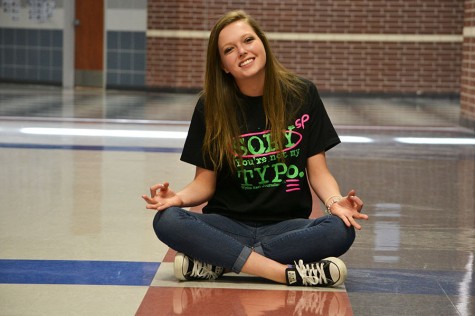 Rhapsody Kilgore, Staff Reporter
Hello! My name is Rhapsody …yeah like bohemian or the music company but you can call me Rhappy for short. I just moved here in the summer from Fort Lauderdale, Florida, and this is my junior and senior year since I am graduating early. I am a lover of lattes, fireworks, elephants, concerts and rainy days. Not only is writing a passion of my own, but I am an enthusiast of singers who write their own music such as Taylor Swift, Bruno Mars or Ed Sheeran and producers who create with own scripts such as Steven Spielberg and James Franco. When I lost my mom in the fourth grade writing was something I picked up to cope with everything. I began with poems, to songs, to short stories then books. Now it is a huge part of my life so I want to turn it into a career. Growing up in a hockey family, naturally I'm aiming to become a sports journalist/reporter in the NHL. Right now I am interning with the Allen Americans ECHL team. Hopefully someday I can move to New York, live in a cute little loft with a hedgehog and have a successful column in the New York Times. But hey, I'm still only 17 so I'm just enjoying my last year as a kid for now.