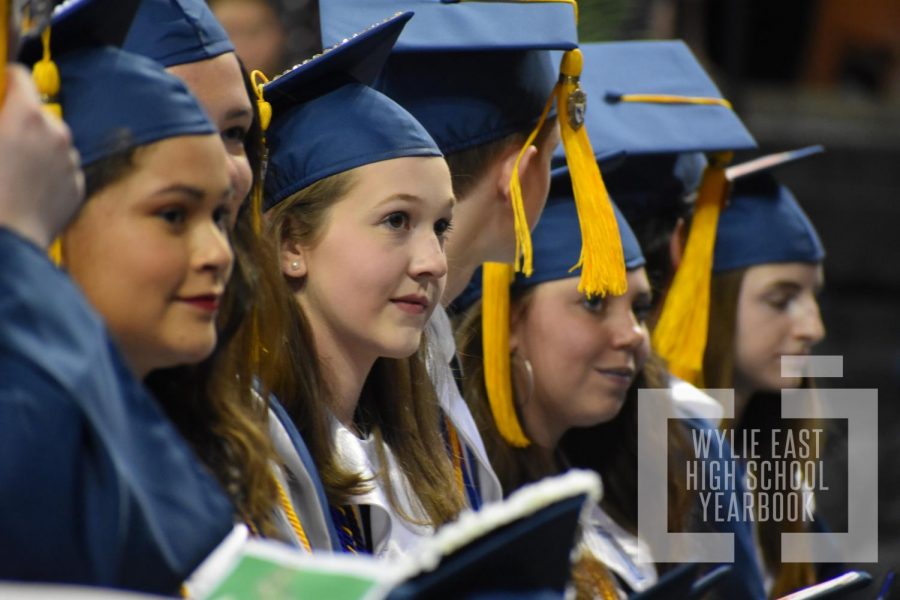 Casi Thedford
Pretending to shoot a basketball, a quick little dance and a dab or two, students from the Class of 2019 took advantage of their moments in the limelight as they crossed the stage to receive their diplomas at the commencement ceremony May 25 at 10 a.m. at the Allen Event Center in Allen, Texas.
Principal Mike Williams began the ceremony with the welcome and introduction of the board and faculty on the stage. He reminded the students to "live their dash," the time between the two significant dates in one's life, their date of birth and death.
Senior Alex Lohmar introduced his fellow JROTC color guard one last time as they raised the flags for the singing of the National Anthem by the choir.
Science teacher Vito Peri welcomed senior Kellie Meyers to the stage to give her salutatiorian speech in which she encouraged her fellow students to take time to enjoy life.
"It's not about how your story ends, but your journey along the way," Meyers said.
Next up was Valedictorian Jaxson Hill, who was introduced by Science teacher Mr. David Shipp. After taking the stage to give his speech, Hill requested that everyone get their cell phones out.
"And if you already have it out–ouch!" Hill said.
He instructed Dr. Vinson to take his traditional selfie.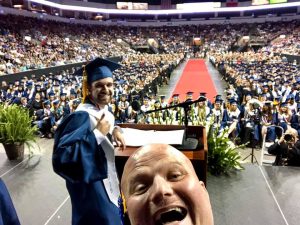 Then Hill requested that his classmates and the audience Google 'pale blue dot,' an image of Earth as a tiny spec in the frame. The photo was taken by the Voyager 1 spacecraft in 1990 from a distance of more than 6 billion kilometers.
Hill went on to quote Carl Sagan.
"Look again at that dot. That's here. That's home. That's us. On it everyone you love, everyone you know, everyone you ever heard of, every human being who ever was, lived out their lives. The aggregate of our joy and suffering, thousands of confident religions, ideologies, and economic doctrines, every hunter and forager, every hero and coward, every creator and destroyer of civilization, every king and peasant, every young couple in love, every mother and father, hopeful child, inventor and explorer, every teacher of morals, every corrupt politician, every 'superstar,' every 'supreme leader,' every saint and sinner in the history of our species lived there–on a mote of dust suspended in a sunbeam."
Parents and friends cheered as former assistant principal Mr. Keith Kirkpatrick called each senior's name. School Board Members Dr. Jacob Day and Mr. Mitch Herzog handed them their diplomas, then they posed for a photo with Principal Mike Williams and shook the hands of each of the 0ther school board members before exiting the stage.
Senior Makenna Crane gave the final prayer.
At the conclusion of the ceremony, instead of tossing their caps into the air, students followed tradition and flung blue and white streamers into the air.
The Pride of the East's Top Band played the school fight song as graduates exited the floor.