Working weekend
AFJROTC supports veterans through various events
Hang on for a minute...we're trying to find some more stories you might like.
The Air Force Junior Reserve Officer Training Corps from Wylie East and Wylie High participated in multiple occasions to honor Veterans over the Veterans Day weekend. Both AFJROTCs volunteered at the first annual Veterans Gala at the National Guard Armory Nov. 10.
Hosted in honor of the late 1st Lt. Robert Welch III who served in the Army until he passed in Afghanistan April 3. The AFJROTC programs volunteered as servers, escorts and many more to guests attending the gala.
"
Many [of the veterans] came up to me and told me how proud it made them to see young people show patriotism in such a respectful way."
— Col. Brooks McFarland
Wylie High School hosted the annual Veterans Day Parade which Wylie East also participated in Nov. 12. The organizations took part in the 18th annual Veterans Day Parade to honor all veterans who served or are currently serving. This year, the parade was hosted inside the Wylie High School Auditorium due to low temperatures and high chance of rain.
"Being inside was something new and a little scary," junior Katie Henry said. "However, it was fun, and still meant a lot to be able to honor the veterans who served our country."
Specific cadets practiced at the Wylie High Stadium after school the previous week as preparation for the Pass In Review portion of the parade.
"Pass In Review is a tradition in the military that goes back to Roman times. Back then, it would allow the commander to review his troops and engage their readiness before battle," Col. McFarland said. "Today, we continue this as a ceremonial show of respect."
Due to the change in location, the signature Pass In Review was unable to be conducted, leaving only the presentation of the colors, service flags and speeches to be made.
"I feel bad for the cadets who practiced the Pass In Review movements, but did not get to demonstrate them," Col. Brooks McFarland said. "However, the indoor ceremony allowed cadets to better recognize the audience in a more personal way, so overall it was a good change."
Wylie East AFJROTC is led by Col. McFarland. The Wylie High School AFJROTC is led by Col. Steven Jones.
"I felt proud seeing our cadets honoring veterans because of the responses from the veterans themselves. Many came up to me and told me how proud it made them to see young people show patriotism in such a respectful way," Col. McFarland said. "I also enjoyed the camaraderie shared between the cadets from both high schools."

About the Writer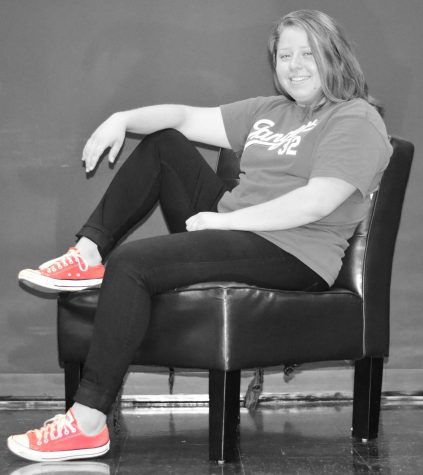 Melissa Wrobel, Staff Reporter
Oh, hey there!

I'm Melissa Wrobel. Don't even try saying the 'W' in my last name because it's pronounced like row-bowl.

You'll always...