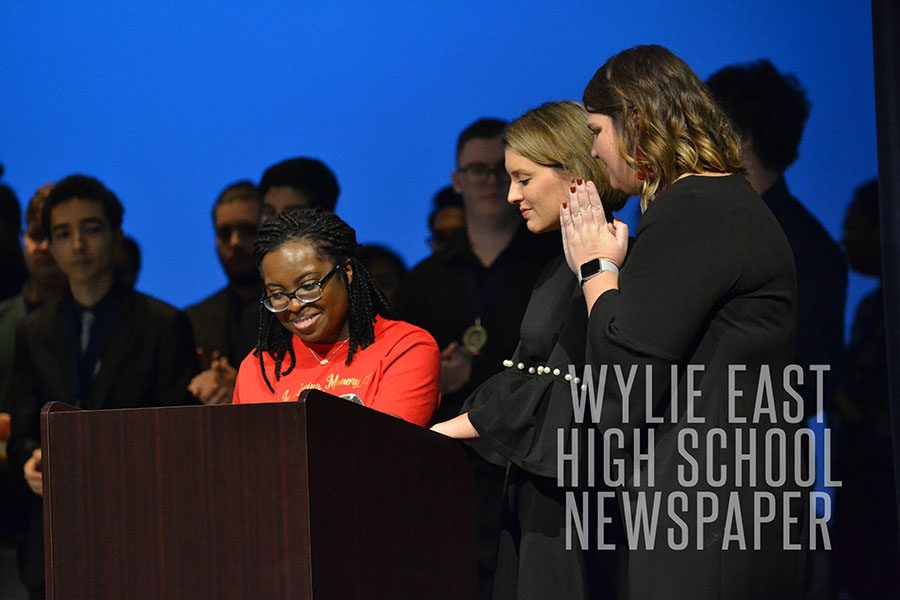 Casi Thedford
These students' good grades may end up on a Christmas ornament if their parents take heed to Biology Teacher Mrs. Breegan Gholson's advice about her own parents' doing.

Mrs. Gholson was the guest speaker at the ninth annual National Honor Society induction ceremony in the auditorium where 95 students were formally inducted Oct. 29.
"We as educators, friends and family in this room are here for you. Celebrate your successes," Gholson said.

To qualify for NHS, applicants must maintain a 90 or above average and have exceptional character, service, leadership and scholarship. The NHS officers kicked off the night with the customary candle lighting and introduction of the NHS pillars.
Each inductee was called to the stage where they accepted their induction certificate from Mr. Williams, shook Mrs. Gholson's hand, signed their name into the register then had a photo taken with their honored guest.
Junior Berry Stevens chose someone extra special as her honored guest.
"I chose my mom because, as a teacher all my life, she has taught me so many lessons academically and in life. Growing up with her by my side has helped me in so many ways," Stevens said.

After graduation, she plans to study elementary education at Texas Tech University.
The audience fell silent at the end of the ceremony for a special In Memoriam Induction.
"I was thrilled when I saw before school started that that Theresa [Sackey] had been placed in one of my junior English classes. With her history of high scholarship, solid leadership, great character, and extensive service, I was confident that she would be selected to National Honor Society," English Teacher Mrs. Amy May said.
After battling lupus, junior Theresa Sackey passed away Aug. 16, the first day of school.
Theresa's name was still on the list of students whose grades made them eligible to join the honor society. After a unanimous acceptance vote by the NHS faculty council, they decided she should still be inducted at the ceremony.
"Her spirit still resonates with our members, too," Mrs. May said. "She was a very bright girl and a hard-working student, but more importantly, she was a great friend to those around her. She had one of the best, most infectious smiles of anyone you've ever met."
Mrs. May invited Theresa's sister, Cassandra Asare-Sackey, an alpha class graduate, to the ceremony to sign her sister's name on the scroll.
"In fact, by nature of her hyphenated last name, Cassandra was the very first member ever inducted into the Wylie East NHS, and her signature is literally the first name in our Official Chapter Registry," Mrs. May said.
Now, Theresa Sackey is the very last name on the scroll.
Playing while Cassandra made her way to the stage to accept her sister's certificate, shake Mr. Williams' hand and sign the scroll was a song written by one of Theresa's dear friends, senior Joan Lavaki, Hummingbird.
To hear Lavaki's song, click below:
"I wrote it because I felt like she deserved a song and it was a way for me to express how I was feeling," Lavaki said. "To me she was like a hummingbird, a beautiful and delicate work of art that is so rare to find. I sing 'gone so soon just like a comet' because that's what happened. She was there for one second and then gone the next, but in the time that she was there, it was so wonderful and a once in a lifetime experience."
The NHS sponsors are Mrs. Amy May, Ms. Jessica Taylor and Mrs. Kathleen Carver.