Zach Wilson's story
Hang on for a minute...we're trying to find some more stories you might like.
The growth of a student
Senior Zach Wilson is a brother to nine siblings and also a cheerleader. He helps transport his siblings from place to place when his parents are in need of assistance.
"Zach is a leader of our team," varsity cheer coach, Caryn Seed said. "He listens to what others have to say and is there to support his teammates."
Wilson also works at the Grand Heritage neighborhood clubhouse 16 hours a week monitoring the neighborhood and scheduling clubhouse events. Wilson also attends cheer events including practices and games around 20 to 30 hours a week.
"What makes me who I am today is my past and my past mistakes," Wilson said. "I try to take my bad decisions in life and learn from every one of them."
Wilson is also responsible for paying for his own competitive and school cheer which equals out to about $1,000 a season, Wilson pays $100 a month for car insurance, gas is about $200 a month and car maintenance as it is needed.
"I pay for the majority of my things," Wilson said. "My real mom who is now separated from my dad helps me pay for some stuff."
Wilson's classmates say he is a strong-minded person who is very independent.
"Zach is a very supportive friend, he tells it like it is…. A lot," friend, Kati Klakamp said. "He truly wishes the best for everyone and he encounters and strives for nothing but excellence."
Wilson takes these hard times and uses them as motivation to take responsibility and not feed off of others. These things also push him to strive for success.
"I live by the quote: Have I not commanded you? Be strong and courageous. Do not be terrified; do not be discouraged. For the lord your god will be with you wherever you may go. Joshua 1:9," Wilson said.

About the Writer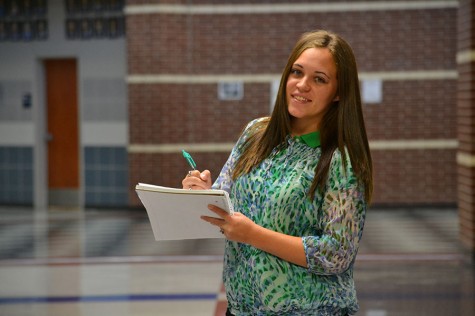 Taylor Veracruz, Staff Reporter
Hi, my name is Taylor Veracruz. I am a senior and this is my second year in Newspaper. My goal this year for newspaper is to improve my writing skills and contribute to the Newspaper team.
Besides these two classes, I am also a varsity cheerleader. I have cheered for nine years and this is my tenth. I enjoy school cheer because I love supporting the boys and keeping school spirit alive.
Something interesting about me is my love for drag racing. I have been around racing since I was born. My dad started racing when he was only 16 years old. This is something my whole family does together, when my dad goes, we all go. This is one of my favorite hobbies because I love being with my family, the drag racing environment and the rush I get when watching my dad race down the track.
My plan after high school is to go to Tarleton or Texas Woman's University to become a Pediatric Oncology Nurse.