Pro com students hosting supply drive week of Oct. 20
Hang on for a minute...we're trying to find some more stories you might like.
It was originally just for a project, but it turned into much more. Professional communication students were faced with the task of coming up with a fundraising idea that they could organize. Little did they know that their projects would be implemented into real life fundraisers for students to participate in at school. On Oct. 22 and 23, students can donate items for three different causes during the designated classes for each cause. Since many people are confused about what to donate when, here is an outline for the next two days:
 Who: Christian Care Center
What: Toilet paper, shampoo/conditioner, toothpaste/toothbrush/floss, fourth grade and under hygienic products (hair brushes, ties, clips, children shampoo) and other toiletries such as deodorant, soap, mouthwash.
Where: second period
Why: To benefit less fortunate families through the Christian Care Center
Prize: The second period with the most items gets a donut party during their class Oct. 27.
Who: In-Sync Exotics
What: Cleaning/daily care supplies such as hand sanitizer, paper towels, toilet paper, liquid dish soap, disposable surgical gloves and spray bottle. Office supplies such as copy paper (colored and white), staples, paper clips, folders, permanent and dry erase markers. Can enrichment toys/supplies such as plastic buckets and bins, plastic trash cans, large indestructible balls (6" – 33"), large paper garden/leaf bags, large Kong toys, grocery store gift cards and large/medium plain rawhide bones.
Where: 3rd period
Why: To help the volunteers and big cats at In-Sync Exotics.
Prize: The class with the most supplies will receive a sweet treat.
Who: DFW Pup Patrol
What: Dog supplies such as bowls, toys, treats, etc.
Where: During lunch. *Also, vote for the teacher you want to see dressed as a dog.
Why: To help the DFW Pup Patrol abused and mistreated dogs
Prize: Students will get a raffle ticket for donating, which will quality them to win prizes Oct. 27 during lunch.
Who: Fostering Hope
What: Baby bottles, pacifiers, blankets, toddler snacks, toys, shoes, bibs and diapers
Where: Homeroom
Why: Help children in need whose parents can't afford Christmas presents
Prize: The homeroom that collects the most donations will win candy and soda.
About the Writer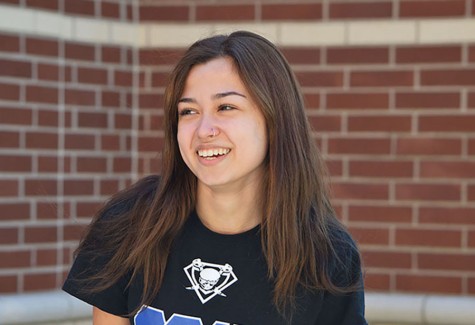 Ash Thomas, Editor in Chief
Ash Thomas. Four time Oscar nominee. Avid sailor. Competitive wrestler. I've been around the world six times and I'm up for Woman of the Year.

Except,...