Wylie East Band leaves home
Hang on for a minute...we're trying to find some more stories you might like.
The Pride of the East Marching Band has revealed its new show entitled "Leaving Home". It includes music from the famous song by Phillip Phillips "Gone, Gone, Gone".
Like the band, baby, don't stop marching…
This year the Pride of the East will be gone, gone, gone with all of the awards at The Plano East Marching Competition, Oct. 4, at the Plano East High School football stadium.
In the years before, the band won several awards including Best Music, Best Visual Effects and overall Best Marching Fundamentals. They are up at 7 a.m. at the beginning of August every year and work for eight hours on marching, musical performance and timeliness. The program relies on this dedication and devotion to accomplish its goals.
"Every year our band works harder and harder. We look back on previous years, learn from our mistakes, and try to become better the next year," senior Luke Stephenson, president of the band, said. "The Pride of the East always works together as one to achieve our goals."
This year's marching show is entitled "Leaving Home", inspired from the story of a young woman leaving her small town to go off into the big city and accomplish her dreams. The show has music inspired by Phillip Phillips' hit single "Gone, Gone, Gone".
"Usually the music inspires the show concept. Yes, we had music that we really liked, but I think that we felt like this show fit the group very well," Glenn Lambert, the head director of the band, said. "With the seniors leaving and moving on to bigger and better things, it's relevant to the show. I think this year's show will really warm a lot of hearts."
Junior Kayla Canava, color guard captain, is the soloist of the show, who portrays the role of the young woman who is "leaving home" to make her way into the big city. The Color Guard, also referred to as the Precious Gems, has the job of reenacting the show theme through dance, costumes, flag work and weapon spinning.
"Our colorguard is exquisite. I am the captain this year and I am responsible for being not only a role model, but a friend to my girls," Canava said, "I have never been more proud. The Precious Gems are going places and they are going together."
Within the last few years, the band has gone up in rank and has become the must see show. But just like any other program, the band has its strengths and weaknesses.
"When we cooperate with each other and share ideas freely among one another, we are at our strongest, but we tend to let drama into our band at times," Kristen Pierri, senior head drum major, said. "Tension occurs and it's unhealthy. That's when we are at our weakest."
The band also has a Leadership Team. This is a group of 38 people, this includes students and directors, who work together to improve the band in social, physical and mental aspects. They are considered the strongest and most loyal members of the band.
"Our leadership team is responsible for several different things in the program. Each member has a different job to do that helps things run smoothly," Aaron Daniel, the associate director of the band, said. "The leadership sort of picks up the slack. They definitely make our band program a better environment."
The Pride of the East expects to be outstanding and work past any and all challenges they may face. It is essential to the program to always be their best.
"Understand that you will be pushed to work to your maximum potential and that your best is always expected. Work ethic and determination are the best skills you can have in this band," Lambert said, "By the end of the season I believe that we'll have a higher level of success than we have ever achieved so far. I'm more than optimistic about the future of this band."

About the Contributors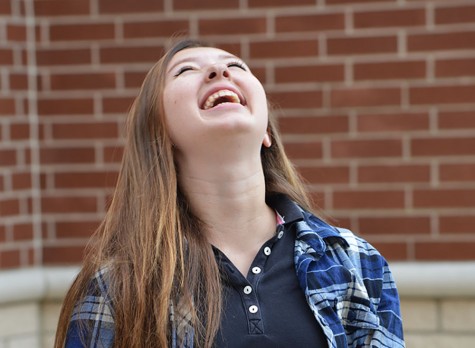 Kailee Zercher, News & Features Editor
Welcome to my Bio!  Kailee is the name, newspaper is the game. I'm 18 and a senior. This is my second year on the newspaper staff. I fell in love with journalism and newspaper as soon as I stepped into Theddy's class. I'm pretty weird, but that's okay, I think.
Basically any type of rock you can think of, I can dig it, but I will listen to anything.
I'm with the band; I play the French Horn in the Wind Symphony band. I absolutely love everything about music. I love to listen to it, read it, write it, play it, etc.
I also absolutely love writing (duh) and I particularly like to write editorials and sports stories. I love to dance!
I LOVE CATS (and all animals). I may seem quiet (keyword seem) but as soon as you know me well enough, you'll know that I'm absolutely crazy and fun and ready to throw myself at any opportunity to make someone smile. I'm very strong-minded, opinionated and stand with my beliefs. I believe that with positivity you can succeed in anything. Enjoy our newspaper website, we have a great staff who works really hard! I'm very excited for what this year is going to bring!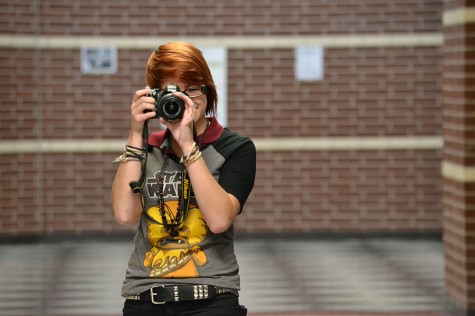 Caroline Witty, Staff Reporter
Hey guys! My name is Caroline and I am a senior. I have to admit something to my readers… I have an obsession with life. That is why I am an enthusiast of the photographic arts. I am planning on being a National Geographic Photographer but for now I am a reporter for WEHS newspaper and Photo Editor for the yearbook. I am also the President of the EVGHS club and an in TPSP Independent Studies. I have an obsession with Dr. Pepper, photography, reading, writing and dogs. Yes, dogs; I have five Great Danes. I've been told that I'm exotic and crazy, I guess that is true. I mean who wants to be normal anyway?