Esteemed photographer visits with photojournalism class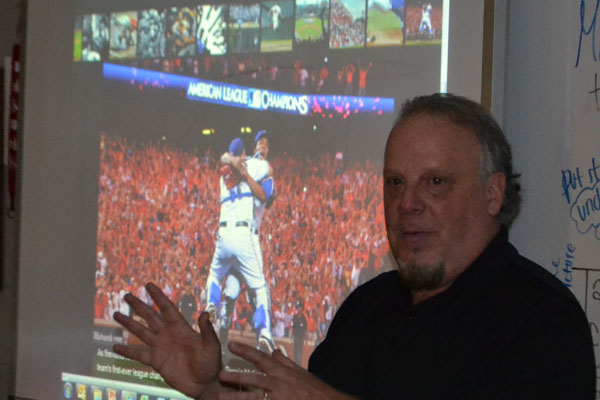 Hang on for a minute...we're trying to find some more stories you might like.
Photojournalist Louis DeLuca has photographed over 50 sporting events including super bowls and championship basketball games. He has also shot the aftermath of Hurricane Katrina.
DeLuca visited Mrs. Thedford's photojournalism class Jan. 11. He shared his experiences with the class and explained what it takes to become an accomplished photojournalist.
DeLuca has been published in Sports Illustrated, New York Times Magazine and many more. He has also won many awards in local, state and national competitions.
"I have won Regional Photographer of the Year for the National Press Photographers Association five times, as well as being runner up five other times," DeLuca said.
DeLuca shared with the class moments that are difficult with his occupation. He said the hardest part of being a photojournalist is shooting times of distress and devastation
"I have to get the names of people and at times they do not want to talk because they are still grieving," DeLuca said.
Photojournalists have to follow up with their photo subject to get information for photo captions.
He talked about when he was on an assignment to capture severe weather and how he took a picture of a woman who had just walked out of a building into wintery weather.
Her umbrella inverted because of the wind.
"I had to run in the snow to catch up to her to get her name and I couldn't talk because I was short of breath from running," DeLuca said. "She thought I was some kind of creep."
According to DeLuca, it is difficult to be a photojournalist because it might not always be possible to get the photo needed, or the information needed to accompany the photo.
He also gave insight to aspiring photographer Dustin Sanders about what he needs to do to become a good photojournalist.
"He gave very good advice and helped me make my decision on becoming a photojournalist later on in life," Sanders said.