About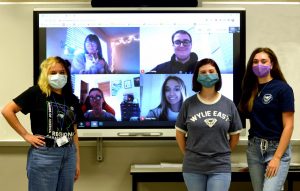 Welcome to Wylie East High School's online newspaper, Blue Print.
During the COVID-19 coronavirus pandemic, Wylie ISD gave students the option of online or on-campus learning. Four of our staffers are gathering news from their homes while three of the staffers are reporting from school.
All content is gathered, written and posted by the newspaper staff. Our mission is to inform, educate and entertain our readers. The opinions expressed are those of the school newspaper staff and do not reflect those of the faculty or administration.
If you have an event that you would like the Blue Print staff to cover, or if you are interested in advertising with Blue Print, please contact Mrs. Casi Thedford in room 826, or email [email protected], or call 972.429.3000 ext. 6186.
Be sure to "like" us on Facebook, Wylie East High School Blue Print, and "like" our sister publication, Wylie East High School Yearbook for important Raider news. Get a peek into the halls of Raider Nation by following us on Twitter and Instagram @WEHSBluePrint.
In addition to our website and social media, once a year we produce a full color magazine, The Raid.